Ya know what? Being a mom sucks sometimes. I could list all the reasons why, but if you're a mom too, you already know.
Instead, I'm going to remind you that you are a badass!
I too am surviving motherhood like a badass! (shirt from Alley & Rae)
I have been a mom for 14 years— Aaliyah is 14 and Layne & Zane are 9 1/2.
These last 14 years have been a long road! A challenging one and a fun one. I wouldn't change any part of it.
But
This week was a week we all experienced new and different things that weren't all that exciting. This is one of those challenging times.
I went back to only having one child at home.
Aaliyah went back to being an only child.
Layne & Zane flew unaccompanied for the first time.
The boys are spending a few weeks without me for the first time in their life.
Aaliyah is enjoying peace and quiet.
I have cried more tears than I have ever in my life.
Layne &  Zane are enjoying unlimited screen time (against my wishes).
But they are also missing me more than they have ever experienced and its been tough.
This week was not for the faint of heart.
It's been a real doozy.
So, yea, I'm surviving motherhood like a badass more so this week than any other week.
I remind myself every morning "It won't be like this forever" and it seems to make the days less lonely and not quite as long. ❤️
27/52: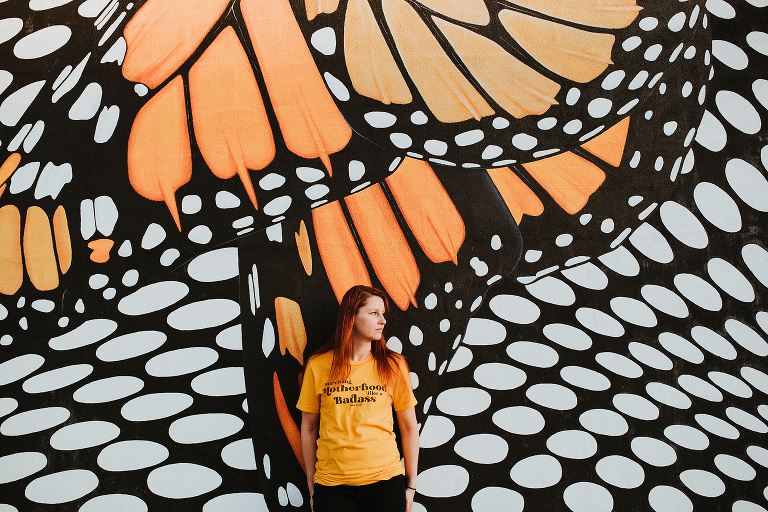 I found this super cute Mural on 25th street in Ogden, and I knew it would be a perfect backdrop.
• All butterflies (and moths) teach the power of transformation, and their presence in your life can be extremely empowering. … Monarch butterfly particularly signals a time for personal change and internal change, emphasising changes of perspective and how we perceive our place in the world and our contentment within it.

• The bee is a symbol of wholesome child-rearing, love within the family, domestic stability, harmony and open communication among family members.
#nailed it.
❤️ 📸 — CANDACE