Hey hey hey, it's a NEW YEAR! 
This means all photographers everywhere are starting a project 365 – a photo a day for a year OR a project 52 – one photo a week. 
Annnnnd I'm one of those photographers this year! 
I've started and stopped a couple of these over the last few years, never completed one. It's quite shameful. 
I decided to give a project 52 another go. I need the creative process, the outlet, the control, and the challenge.
This project will be self-portrait based which I am super excited about! 
If you have seen or read about my MFA THESIS and BRIDGE project this will make complete sense to you, if not, go take a look! 
I am looking forward to learning, growing, experimenting and challenging myself. 
Have I mentioned I am excited? 
So excited I have about 9795485 ideas keeping me up at night now! 
1/52

This was not the intended image for this week at all. In fact, this was the image I was after: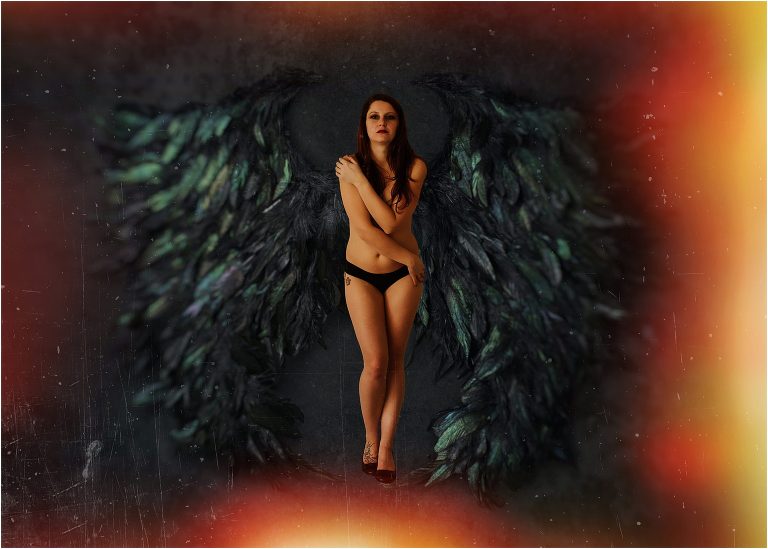 I saw these wings during a google search a while ago and knew I needed to create something with them. While I do like what I created it isn't my favorite and is quite a bit outside the range of my normal work. 
But I also feel detached from it, there is no feeling or emotion I feel when I look at it and without that, its a deal-breaker. 
Emotion and feeling are a HUGE part of my work and thought process.
It is my entire driving force for creating the work and images that I do. 
Composites are not my thing, they've never interested me and not to mention the time they take to create! I'm all about spending as little time as possible in photoshop. I am a straight shooter, authentic, and do everything I can in-camera and on location. 
But the point of this project 52 is to grow and experiment right?! 
So I gave it a try. 
And because of who I am as a person which is someone who is trigger happy and a proud compulsive over shooter
I used my 1.5 hours at the studio to my advantage and created all the rest of these! 
I am super super in love with all of them!! 
I also continued my composite experimentation and placed myself in the middle of the ocean because I am having severe withdrawals.
#MissingOkinawa 🌊
WINGS
I for some reason am drawn to the black wings, hence the reason I set out to create the image above using them for my first image of the project.
But if I am being honest the following two images are my absolute favorite images with the wings. Two different sets of wings.
And then I looked up the definition of 'wings' and it all makes sense. 
#MustTravel ❤️
travel on wings or by aircraft; fly.

take wing

— move, travel, or be sent quickly, as if flying.
---
Are you participating in any project or resolution for 2020? Let's hear about it in the comments!
If not, let me know which of these images is your favorite!! 
And for FUNSIES!
A selfie session is not complete without me making a fool of myself for myself all by myself. 😂